We operate throughout the year, but between November and March we only take provisional bookings which are confirmed 2-3 days before the trip once we have an idea of the weather. To book during these months, please contact us using the form below.

Oban offers unparalleled access to some of the world's best sea kayaking destinations. We are located just 50m from a beach that provides easy launching into settled waters, while a short drive takes us to a host of alternative options. Wildlife abounds, including seals, otters, basking sharks and sea eagles – we've even had humpback whales come to visit occasionally. Oban is the main hub for ferries to the Outer Hebrides, meaning you could join us for a trip before heading off to the next stage of your travels.
Most trips will launch from the beach in Oban, just 50m from our base. In some weather conditions there may be a short drive, or you might be sent an alternative meeting point within easy reach of the town centre. We have single and tandem kayaks available, and we will provide you with wetsuits, waterproof tops and neoprene shoes. For colder weather we have full drysuits. We can take children from age 8, but under 18s must be accompanied by an adult, and for under-12s there must be one adult per child.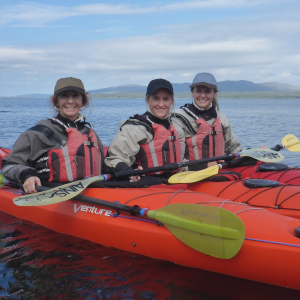 Times: 09.30-12.30 / 13.30-16.30
Cost: Adults £65, under 16-s £45
Level: no experience necessary
Join us for a gentle exploratory paddle around the stunning local coastline. All equipment and basic instruction is provided, and wildlife sightings are highly likely. There is no need for any previous experience, and your guide will provide you with basic instruction to help you control your kayak.
Maximum group size is 6 people.
Half day trips will run on the following dates:
July: 1st, 14th, 18th, 29th
August: 5th, 19th, 29th
Sea Kayak Experience Days
Times: 10.30-15.00/15.30
Cost: Adult £85, under-16s £60
Level: no experience necessary
If you've never paddled before, our Sea Kayak Experience Day will give you a true taste of what sea kayaking is all about. We'll teach you the basic skills you need to control your boat, before heading off to explore the coastline. We'll stop for a picnic lunch on the most isolated beach we can reach, and there's a high chance of wildlife sightings.
Maximum group size is 6 people, private groups of up to 10 people may be accommodated if staffing allows.
If your group includes children under the age of 12, please contact us using the form below to book a Family Sea Kayak Experience Day, which allows us to tailor the pace to younger paddlers. Family Sea Kayak Days cost £295 for 2 adults and up to 3 under-16s.
Times: 09.30-16.30
Cost: Adults £95, 14-16s £70
Level: previous experience required
For those who have some kayaking experience and want to explore a new place, Coastal Day Trips give you the chance to head out with a knowledgeable local guide. Depending on the group's ability, the trip could be anything from a gentle explore through nooks and crannies, to a full day in tidal waters. As a minimum, you should have experience of using a sit-in kayak and be comfortable in waves of up to 0.5m and winds around Beaufort F3. The minimum age for Coastal Day Trips is 14.
If you would like to book a Coastal Day Trip please contact us using the form below for availability.
For any enquiries, or to book Family Sea Kayak Experience Days or Coastal Day Trips, please use the form below.